Wednesday Nov 17, 2021
You need to savour and appreciate the journey that you go on! Tom Scott, Professor of Materials, Bristol University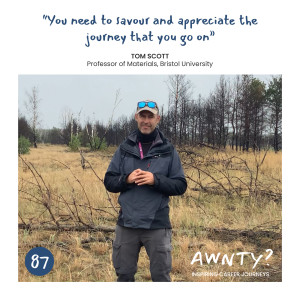 Tom Scott is a Professor of Materials at Bristol University and also leads two spin out companies from the university: ImiTec, which specializes in the development and manufacture of novel methods for detecting, characterising and mapping radiation and Arkenlight, the Diamond Battery company which develops and manufactures micro-power sources based on radiovoltaic technology.
To lives in Bristol with his wife Nikki and their two children Imogen and Joe.
Tom grew up In Dorset and went to the Thomas Hardye school in Dorchester. Tom always enjoyed sports and played tennis, rugby and football. Tom studied Maths Geography and Art with Architecture at A-levels whilst also studying Geology GCSE.
Tom went to study Geology at Bristol University and then went on to do a PhD researching Uranium Geochemistry.
Tom then went on to become a Lecturer at Bristol in the School of Earth Sciences. Tom became the Executive Co-Director of Bristol-Oxford nuclear Research Centre and it was during this time that Tom then got the opportunity to become the Executive C-Director, then Executive Director of ImiTec.
In 2016, Tom became the Special Advisor to the House of Lords Science and Technology Committee on Nuclear leading to report: Nuclear research and technology: Breaking the cycle of indecision. Tom was then also promoted and became Professor Tom Scott and won a Royal Academy of Engineering Research Fellowship to develop new technologies to detect and observe materials containing uranium and plutonium.