Wednesday Oct 27, 2021
We all have our own struggles, weaknesses and doubts. Stacy Snook, Insider Threat Mitigation, Sellafield Ltd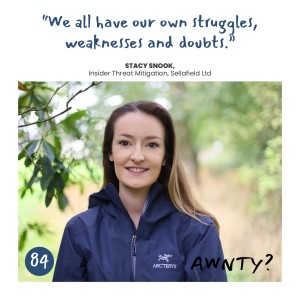 Stacy Snook is a Nuclear Security Professional specialising in Insider Threat Mitigation at Sellafield Ltd and an Ambassador to the World Institute for Nuclear Security (WINS).
Stacy was born and grew up in Johannesburg, where she felt she lived in an international community which she described as good fun. After six years, Stacy and her family then moved back to the UK before then moving to Ethiopia due to her dad's work. Whilst in Ethiopia, Stacy started an apprenticeship to help fundraise and build classrooms in schools. When Stacy returned to the UK, she was asked to do an apprenticeship which sponsored her school on top of doing her university studies.
After completing her apprenticeship when she was 21, Stacy then went to study Nuclear Science and Materials at the University of Birmingham. Stacy continued on at University of Birmingham after graduating to do her Masters in Physics and Technology of Nuclear Reactors. Whilst doing her Masters, Stacy also did a placement with EDF (Heysham) and then did a group project with Rolls-Royce, which took her into their laboratory.
After her placement at EDF, Stacy decided to take a gap year out where she went back to South Africa, before taking a graduate scheme in Cumbria with Sellafield. From here, Stacy moved more into working in the Nuclear Security and Strategic Security side at Sellafield Ltd. She also secured a second placement working in corporate Safety and Security, working as special assistant to the Director.
Stacy is also involved in the Nuclear Institute's Young Generation Network.
For more information, please visit: https://www.linkedin.com/in/stacy-snook/