Wednesday Oct 13, 2021
Try to find that correlation in everything you do. Jon Salthouse, Content Director, Owl Live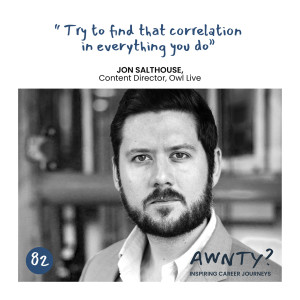 Jon Salthouse is currently the Content Director for Owl Live, which is a Brand Experience Agency specialising in employee engagement, training and events. Jon has had over 10 years of experience of working in engagement with companies such as Google, EY and Toyota. Outside of his career Jon has an interest in classic cars, cycling and photography.
Jon grew up in Birmingham and lived there until he was about 19 years old. Jon went on the theatre school after doing a year at sixth form where he got a triple distinction. He then went on to study musical theatre for three years at Stella Mann College.
After college, Jon went to work on cruise chips in the entertainment team, travelling the world for a year. After suffering an injury during one of his performances, Jon decided to look into the management side of the entertainment industry. From here, Jon started to work as a freelance Event Manager for a huge range of agencies. He also did his Level 5 Award in Behavioural Economics
Jon then went to become a freelance Senior Producer for psLIVE where he lead on pitches and briefs and worked on the digital content for large companies. Jon then on to become the Creative Producer for The Smarty Train.
This then led Jon to work for Owl Live where he leads the strategic communications and content direction for all pitches.
For more information, please visit: https://www.linkedin.com/in/jon-salthouse-36640b26/