Wednesday Aug 25, 2021
The best advice I would give someone is to seek guidance and counsel. Georgina Hines, Policy Analyst, Nuclear Industry Association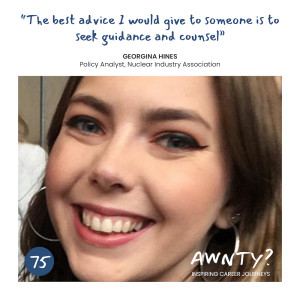 Georgina Hines is a Policy Analyst at the Nuclear Industry Association (NIA). Georgina is also Secretary of the Next Generation Nuclear Industry Council, the Shadow Theme Lead for the NSSG in its delivery of the nuclear skills agenda, and a representative of the Nuclear Delivery Group, which is working on a vision for nuclear activity for the next parliamentary period.
Georgina grew up in Telford and went to William Brookes School in Telford where she particularly enjoyed Science and Maths. After school, Georgina went to study Neuroscience at the University of Manchester and then a Master's in Science Communication.
Whilst at University, Georgina also wrote for the Science & Technology section of The Mancunian newspaper which was what lead her after her Master's to work for SCI as a Digital Media & Policy Officer. It was here that she realised she wanted to pursue the Policy side and got a job at NIA as a Policy Analyst.
For more information please visit: https://www.linkedin.com/in/georgina-hines-1734a210a/