Wednesday Nov 03, 2021
Lead by example and be prepared to do anything that you expect your team to do! Jean Llewellyn, Non-executive Director, ONR and the World Institute for Nuclear Security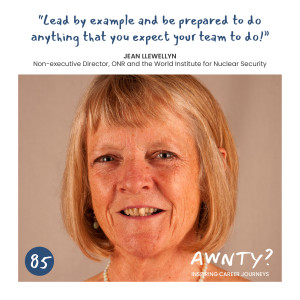 Jean Llewellyn is a non-executive director for the Office for Nuclear Regulations (ONR) and for the World Institute for Nuclear Security.
Jean is active in her free time and likes travelling, mountaineering and cycling and is partial to wining and dining too with her husband.
Jean grew up in Stockport with her two older brothers.
After sixth from Jean went to study Geography at Nottingham University. The style of studying didn't suit Jean's personality and she ended up finishing at the end of the first year. She took time to reflect on what she wanted to do, which was to work in hospitality. Jean successfully secured a place at Hollins College on a three-year programme in hospitality management.
Jean began work in the hospitality industry before successfully getting a promotion to be a hotel inspector for the AA where she remained for five years, primarily working in Cumbria.
Following an enjoyable five years, Jean moved on to become a lecturer in Hospitality and Tourism Management and Marketing at High Peak College in Buxton before moving to Manchester Metropolitan University.
Jean then moved to become regional manager for the north-west tourist board before being asked to become Head of Skills Policy Development for the Northwest Regional Development Agency looking after 18 sectors, including nuclear. Overtime, nuclear took over and that's where her link to nuclear developed.
Jean then transitioned to the role of Chief Executive for the National Skills Academy for Nuclear prior to being a non-executive director for the World Institute for Nuclear Security, and for the ONR.
For further information: https://uk.linkedin.com/in/jean-llewellyn-obe-19ab7313