Wednesday Sep 29, 2021
It's okay not to have a plan, just going with the flow is alright! Being adaptable and applying your skills to different environments is key. Beccy Pleasant, Head of Nuclear Skills, NSSG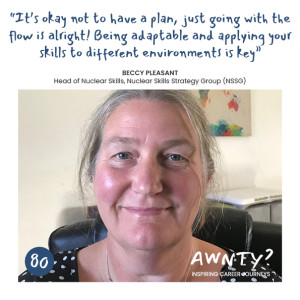 Beccy Pleasant is Head of Nuclear Skills at the Nuclear Skills Strategy Group (NSSG).
Beccy lives in Anglesey in North Wales. She enjoys her countryside walks and runs which offsets her love of cooking. Beccy also finds time to runs a small holding, aiming for self-sufficiency in meat and vegetables. She is also Vice-Chair of Governors of Llangefni Secondary School, Anglesey.
Beccy grew up in Harlow on the Hartforshire/ Essex border. She went to school in Bishop's Stortford, a historic market town about 30 miles Northeast of central London. 
After completing her A-Levels, Beccy join the Accelerated Training Programme at Barclay's Bank with training from the Chartered Institute of Bankers where she achieved a Foundation in Law, Economics, Finance.
Beccy then joined Lloyds Register of Shipping, London, as a Training Administrator, before joining Unilever, first in graduate recruitment and then as Personnel Services Manager. During this time, she completed an Open University degree in Psychology.
Beccy spent a few months as a Ski Resort Manager for Inghams in Switzerland, before studying for a PhD at Bangor University.
Beccy then started at Nelson Thornes Ltd - an educational publisher producing books and digital resources for the UK, as well as international schools and colleges.  It is now part of Oxford University Press, in Cheltenham.
Beccy then joined Magnox at their Wylfa site in Anglesey in Learning and Development and continued her own learning and development with a Post Graduate Certificate in Leadership – at Manchester Metropolitan.
Beccy was then seconded to NDA as Head of Skills and Talent and then she most recently joined the Nuclear Strategy Skills Group as Head of Nuclear Skills Strategy.
For more information, please visit: https://www.linkedin.com/in/beccypleasant/