Wednesday Oct 20, 2021
Grasp every opportunity that comes along with both hands, give it 100% and be wholehearted. Claire Flint, Senior Independent Director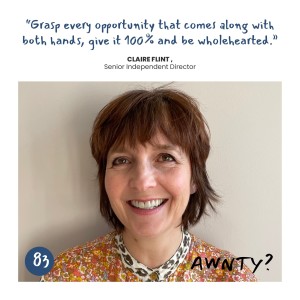 Claire Flint is a Senior Business Leader and a Non-Executive Director for a number of organisations including the National Nuclear Laboratory (NNL), Oxford University Hospitals NHS Foundation Trust.
Claire lives in Oxford and enjoys walking in the countryside and grows vegetables in her garden.
Claire's favourite subject was History whilst she was at school, so after school she went to study History at Queen Mary London University. After she graduated, Claire went to B&Q as part of the Graduate management scheme before moving to Natwest Bank where she did her training alongside in Diploma in Labour Studies.
After three years, Claire took an opportunity at the Bass Group, where she developed and delivered a structured management training programme and succession planning process. She then later moved to Diageo plc where she was responsible for HR and Organisation Development for Head office.
Claire then joined Oxford Instruments as Human Resources Manager on the executive. Claire was the first HR lead on the executive team of a division of the business and Introduced performance management, and performance related pay.
Claire became an industrial member of the campaign board for the Institute of Physics and then through the women in boards joined NNL.
For more information please visit:  https://www.linkedin.com/in/claire-flint-9707a34/