Wednesday Sep 22, 2021
Be the best you can be, and give people the realisation that there are opportunities out there for them. Rebecca Weston, COO, Sellafield Ltd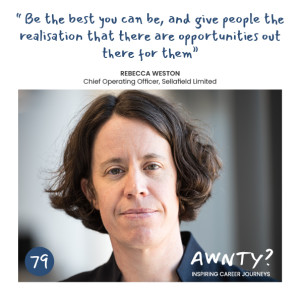 Rebecca Weston is the Chief Operating Officer at Sellafield Limited and is accountable for programme delivery and performance of the nuclear site.
Rebecca grew up in Skegness and now lives in West Cumbria with her wife Tanya and toddler Max.
Rebecca went to Oxford University to study Physics. Rebecca enjoyed every moment of her time at Oxford University and made the most of being able to play a variety of different sports by joining the women's football, cricket and hockey teams. She also enjoyed rowing.
After graduating, Rebecca then took a role as a Design Engineer at the Bonas Machine Company in Gateshead. She then did a PhD at Newcastle in Electro and mechanical engineering. From there, she then went to work for BNFL.
Rebecca then took a role as an Operations Support Manager, and then progressed through a number of various roles at Sellafield Limited, from a Contract Officer in commercial and a number of roles as an Executive.
For more information, please visit: https://www.linkedin.com/in/rebecca-weston-1b52512b/