Wednesday Sep 01, 2021
Always pursue things you are interested in, because if you're not interested, you'll not do very well. Dr Tim Stone CBE, Chairman, Nuclear Industry Association and Nuclear Risk Insurers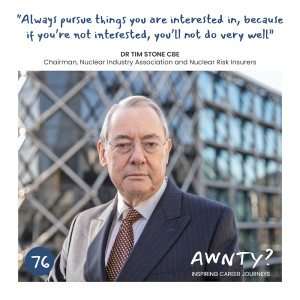 Dr Tim Stone is Chairman of the Nuclear Industry Association, the trade association for the civil nuclear industry in the UK, and Chairman of Nuclear Risk Insurers, a leader in nuclear insurance supporting over 300 nuclear sites around the world. Tim was awarded a CBE in 2010 for services to the Energy industry.
In his free time Tim likes to play classical music.
Tim grew up in Catcliffe, close to Orgreave pit where his Grandfather worked which incidentally happens to be where Nuclear AMRC is now based. He studied at Maltby Grammar and then went on to study Chemistry at St Catherine's College, Oxford.
After University, Tim then joined the management consultancy division of Arthur Andersen & Co.'s where he designed and installed large, complex computer systems in government, insurance and the financing industry.
Tim then made the big move to New York to work for Chase Manhattan Bank to run the software business and progressed through the organisation to Managing Director. From here Tim then moved to S. G. Warburg, where he got more involved in projects.
Next, Tim founded and was chairman of KPMG's Global Infrastructure and Projects Group and also held positions as the Senior Adviser to five successive Secretaries of State responsible for energy and as Expert Chair of the Office for Nuclear Development in the Department of Energy & Climate Change.
For more information please visit: https://www.linkedin.com/in/tim-stone-cbe-53b3364/